A decade ago, when the Nissan Leaf "Cheapest Electric Cars" appeared as the first widely available mainstream electric car, the only drivers genuinely interested in buying one were early adopters with short commutes. With only about 100 miles of range and a new consumer phenomenon later dubbed "range anxiety," the Leaf had limited appeal.
But in subsequent years, advances in battery design and packaging meant more miles, broadening the acceptance of electric vehicles. Gradually, more buyers could envision using an EV for trips to and from work or for errand runs around town. Today's EVs range from pokey and basic to fast and luxurious, with price tags to match. But if you don't need a lot of range, some of today's top electric vehicles can be had for the price of an average sedan, and for even less when you factor in federal and state incentives.
We've gathered up the most affordable electric vehicles you can buy today and tip you off about some notable options on the horizon. If you've been hesitant to dip a toe in the electric waters (irresponsible metaphor aside), now is a great time to make a relatively low-risk leap.
The Cheapest Electric Cars Ever
2020 Mini Cooper SE
Mini traditionally offers vehicles that are nicer and more expensive than most mainstream automobiles. But it's trying something different with its all-new Mini Cooper SE. The Cooper SE, which is based on the Hardtop 2 Door, is all about style, fun and
 affordability. With an EPA-estimated 110 miles of range, it can travel significantly less far than the other models on our list. But that distance is still good enough for most EV drivers. You also get nimble handling and easy-to-park size as part of the deal.
Starting price (including destination fee):

$30,750
EV range:

110 miles
2020 Nissan Leaf
An EV that outdistances its competitors and costs less than the rest? That's the Leaf's formula, and it's a hard one to resist. With 150 miles of range in its affordable base trim (an optional larger battery pack version, the Leaf Plus, can travel up to 226
 miles), the Nissan offers useful distance and is the second-least expensive car in the class. It's also quick to accelerate and handles well. Limited storage and back seats that don't fold flat are our only gripes.
Starting price (including destination fee):

$32,535
EV range:

150 miles
2020 Hyundai Ioniq Electric
For 2020, the Ioniq Electric comes with a larger battery pack that provides a substantially longer range (170 miles, compared to 124 miles previously). It also gains quicker Level 2 and Level 3 charging capability, slightly more horsepower, and new technology
 features such as a bigger infotainment display. It still has a few downsides, such as a small and uncomfortable back seat, but overall the improved 2020 Ioniq is worth a look.
Starting price (including destination fee):

$34,000
EV range:

170 miles
2020 Chevrolet Bolt EV
In terms of range for the money, no mainstream electric vehicle offers more. The Chevy Bolt is a zippy little commuter car with a spacious cabin and nimble handling, and for 2020 it offers 259 miles of total range. There are some drawbacks: The Bolt's interior
 is a bit plasticky, and the seats are on the overly firm side. Still, the Bolt's capabilities are undeniable. It's also worth noting that Chevy has rolled the vehicle out to dealers across the country, making it easier to buy and service no matter where you live.
Starting price (including destination fee):

$37,495
EV range:

259 miles
Cheapest Luxury Electric Cars
2020 Tesla Model 3
The incredible popularity of the Model 3 shouldn't come as a surprise. It offers excellent range, advanced gadgetry and gimmickry (whoopie cushion sounds when engaging the turn signals, anyone?) and real utility. Its massive trunk and smaller front trunk make
 packing for long trips easy, while its tight steering, composed handling and instant acceleration make it a blast to drive. Overall, the Model 3's merits — including a realistic entry price — make it one of the best midsize sedans, electric or otherwise, available today. Notably, we picked it as our Top Rated Luxury Electric Vehicle for 2020.
Starting price (including destination fee):

$41,190 (Standard Range Plus version)
EV range:

250 miles
2019 BMW i3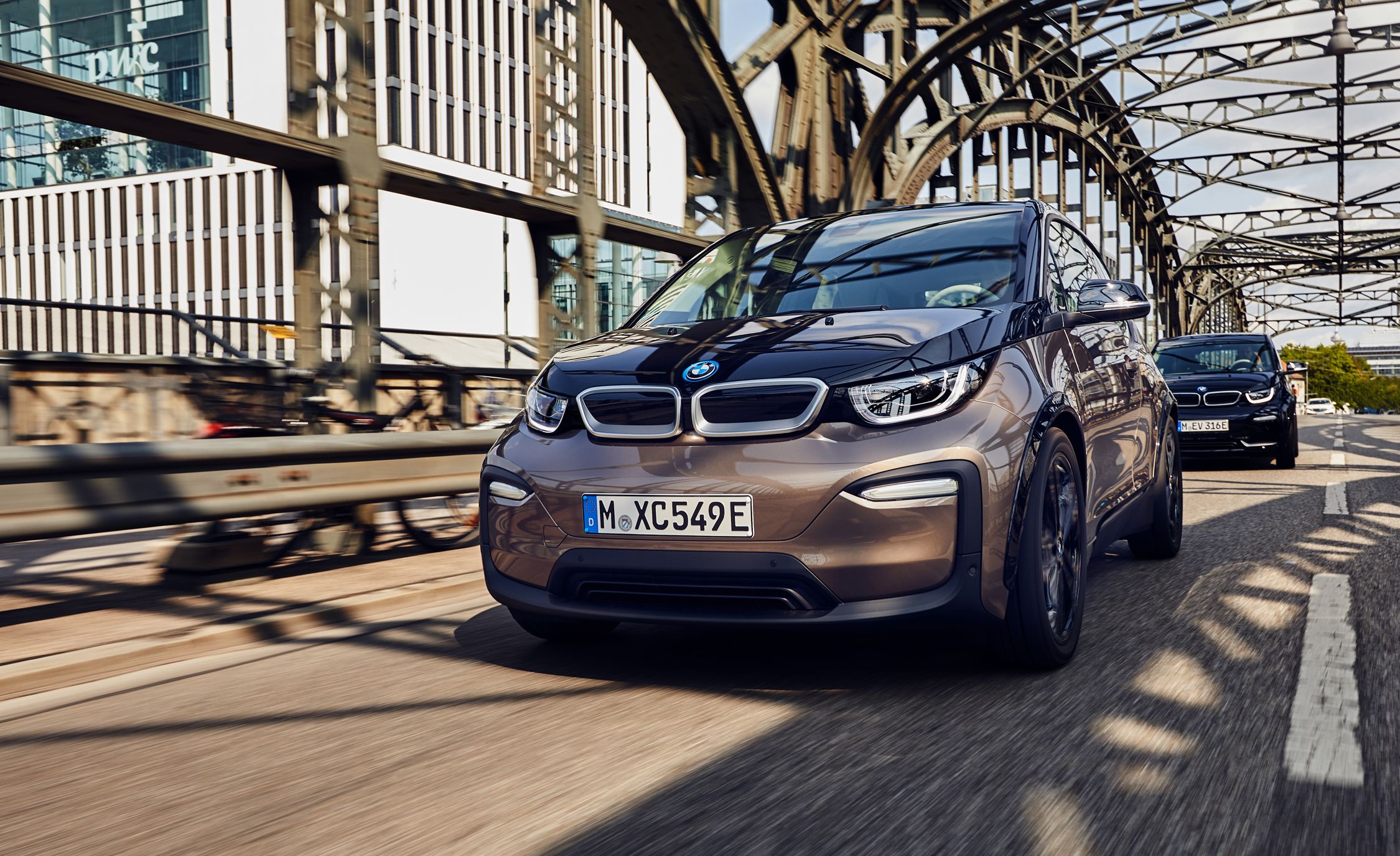 Introduced nearly six years ago, the i3 is one of the EV class elders and one of the first EVs from a luxury brand. And it remains relevant today based on the formula that made it successful on its debut. The i3's small size and lightweight make it easy to
 park, maneuver and accelerate, and it's a hoot to drive thanks to its short wheelbase. Its futuristic interior is also unique in the class. A higher-capacity battery means today's i3 can travel up to 153 miles on a charge. That's not much considering its price and competitors. But if style and urban commuting are priorities, the i3 still merits consideration.
Starting price (including destination fee):

$45,445
EV range:

153 miles
2020 Jaguar I-Pace
The I-Pace is one of the newest challengers among luxury EVs, arriving ahead of other luxury European competitors such as Audi and Mercedes-Benz. The I-Pace is stylish and fast, and it handles like today's top gas-powered sports cars. Jaguar's magic here is in
 making the electric sports car experience feel seamless (something soon to be challenged by the forthcoming Porsche Taycan). The I-Pace also commands a hefty premium price that makes less sense when compared to Tesla's offerings. That said, few cars are as evocative as a Jaguar, and the I-Pace is no different.
Starting price (including destination fee):

$70,875
EV range:

234 miles
Source- edmunds